It's 10 am, Monday. I'm at the office. I know I should be doing something work-related but screw it, I'm reading me some comics. Just finished the hardcover collection of the rebooted Justice Society of America in JSA: The Next Age by Geoff Johns and Dale Eaglesham. I love it. It's got Wildcat punching Vandal Savage in the back, it's got Wildcat's son running away from Vandal Savage and he's furry (the son, not Vandal Savage). And Nazis killing people at a family picnic. Bad Nazis. Also, Power Girl. Can't go wrong with Power Girl.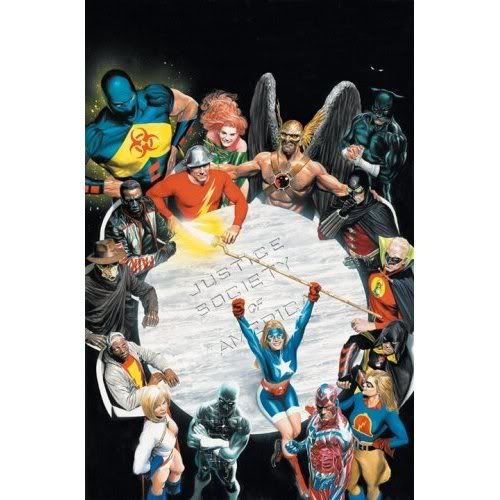 Johns writing isn't bad (although a Confederate racist super villain called 'Rebel'? Seriously?) but what I like about this book is Eaglesham's pencils. We get so many bad artists in so-called top of the line comics nowadays, it's quite serendipitous to look at pictures by someone who can, you know...draw.

Slightly disappointed that it only collects the first four issues, though. For USD$19.99 (USD$13.59 at Amazon), I'd expect at least a couple of issues more. If you think this is highway robbery, you can always wait for the softcover but I'm not sure if DC will release this in softcover. The relaunched Green Lantern title is still only collected in hardcover.

This is a good albeit short superhero comic. Bring on the second collection.